The professional web gallery creator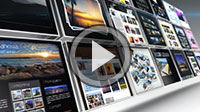 Watch video
Download jAlbum and make web albums in just a few minutes
jAlbum – Does all the work!
jAlbum downscales your images to web and thumbnail size, creates complete web pages, and uploads them to jalbum.net or any other website! All you have to do is drag & drop your images to jAlbum and choose a look for your web album!
Who uses jAlbum?
Photographers

Create clean, stylish photo galleries with ease. Watermark protect, use your image metadata or add our integrated shopping cart and sell your images.

Organizations

Tag images and parents can easily sort out their kid from the latest football match. jAlbum is excellent for organizations, especially when you have huge amounts of images and frequent updates.
Be private or share
With jAlbum you can choose! If you want to have private galleries you can activate password protection and only visitors with the correct password can view your albums. If you want to share and be social you can add Facebook commenting to your albums and share them on social networks. With jAlbum you have a choice! And remember, jAlbum will never claim any rights to your images, they are yours and only yours!