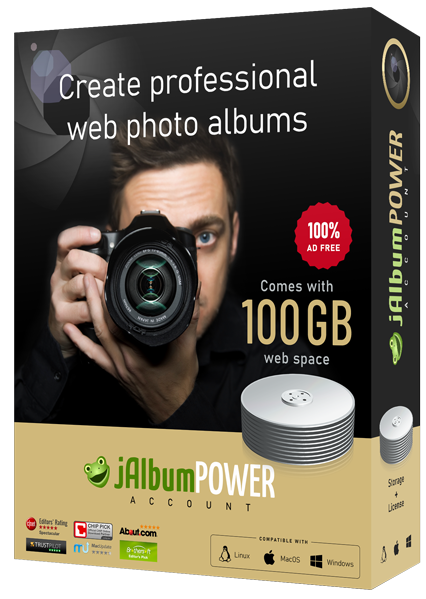 Select
| Duration | Discount | Price / month |
| --- | --- | --- |
| 1 month | | |
| 1 year | 15% | |
| 2 years | 32% | |
Description
The Power account comes with a spacious 100 GB storage solution for your photo, video, and music galleries. Upload to yourname.jalbum.net or use your own domain to showcase and share your galleries. Includes the Pro License (valid with your active Power account) which enables you to use jAlbum for commercial purposes and activate jAlbum's shopping cart.
Key features
Full version software - Unlimited free upgrades
Create & upload with the jAlbum software or Online jAlbum (our online service)
100 GB of storage (200,000 - 1,000,000 photos)
Commercial use allowed *
100% ad free albums, no product links, no nag-screens
Priority e-mail support
100's of jAlbum skins (album themes) **
Priority-mail support
If you have any questions just send us an e-mail and we'll respond to you shortly, always within 24h during business days.
Have your own site?
If you have your own site (domain and hosting) then choose the Standard License (non-commercial use) or Pro License (commercial use) instead.
* Commercial use - Use jAlbum to promote your company or other commercial activity. You may also activate the shopping cart of certain skins to sell photos or other items from your web galleries.
** All skins bundled with the jAlbum software and almost all other skins available by free download are included with the Premium Account. A few skins, developed by third party developers, require a separate license.