Widgets
What are jAlbum widgets?
Widgets are little tools that can enhance the functionality of an album. Each album can have its own set of widgets. The widgets are visible in a discreet little toolbar in the bottom of your album page. Widgets work on any web site. This is what it looks like.
How does it work?
To use widgets on your photo album you must create it with jAlbum 8.1 or later versions. You will also need a jalbum.net user account to verify your identity and ownership of your album. You can manage what widgets to use from within the jAlbum software (v10.9 and above) or from your profile page at jalbum.net. There is no need to republish albums to change widgets. Almost all skins work with widgets. Here's the list of widget compatible skins.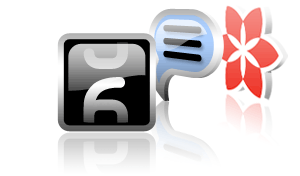 Available widgets
Version 1.2

About - Let your visitors know more about you

Description: The About widget shows information about you, the person behind the photos, including your jalbum.net user image and information (such as description, location and a link to your homepage). It also shows your albums description, when it was published and what skin it was built with. The About widget also lists thumbnails to your other albums for easy browsing.

Version 1.1

Comments - What does your visitors think of your album?

Description: Let visitors comment on your album and on each image. Get feedback and connect with your visitors. Now with guest commenting!

Version 1.0

Visitor Counter - How popular is your album?

Description: The Counter widget displays how many total visits you've got on your album and how many visited each image.

Version 1.1

Share - Spread your masterpiece

Description: The Share widget make it easy for visitors to share your album on their favorite social networking site (such as Facebook, Twitter or MySpace), blogs or e-mail to friends.